You'll need windproof and warm enough clothing for your trips
clothing and sunglasses. You can take some of your catch with you
if you so wish. In that case, bring a cooler or similar with you.
Payment methods:
You can pay for services with all major debit and credit cards, in addition to bills and cash.
GooglePay, ApplePay and SamsungPay also work! Accommodation in las-
will be agreed in advance.
You can also get a gift voucher for the amount you want.
Lynx 49 Ranger 900
Snowmobile with 4-stroke engine.
The two-seater is a great tow vehicle for sleigh trips.
The engine runs very quietly.
Iisland-sleigh 
A sledge designed for 10 people. Handmade from Lapland
birch and pine, this sledge has a smooth and soft ride.
The reindeer skins are warm and comfortable to sit on.
If necessary, a mobile firepit can be attached to the sleigh. 
EASY FAMILY-FRIENDLY ICE FISHING TRIP TO THE SEA IN II
2h PRIVATE TOUR
When the ruggedly beautiful Bothnian Bay freezes over,
it's time to pack our best lures,  and stock up on warm clothes,
because perch and other fish are waiting to be caught.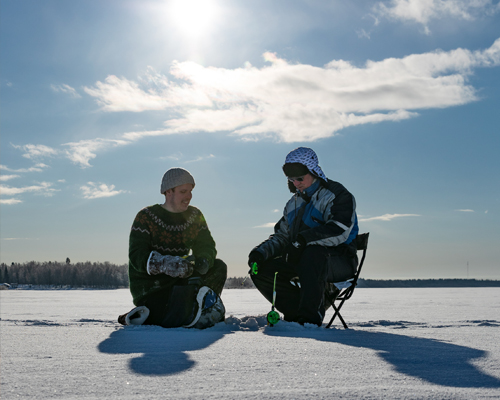 FROZEN RIVER
AND SEA
EXPERIENCED
FROM A
SNOWMOBILE SLEIGH
about 1,5h
Experience the stunning seascapes of the  Bothnian bay and
Ii river on a snowmobile sleigh. Winter nature unfolds in all its
glory as you ride on the ice. The sun, moon and stars, even the
northern lights, light up the sky depending on the time of day.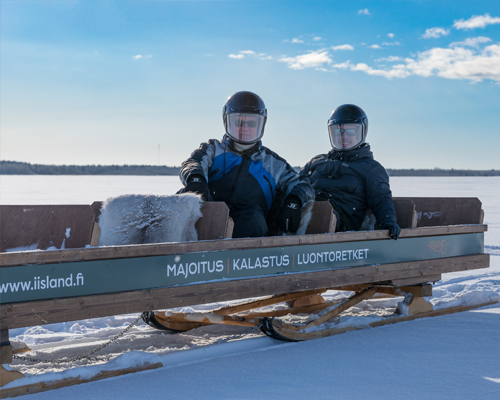 LIGHT WINTER
FISHING TRIP
AT SEA IN II
2-
3h
(
1-20
PERSONS
)
On this net fishing trip you will experience unforgettable experiences while fishing under the ice and wondering if the sea will give you a catch. You will also learn how to handle your catch correctly.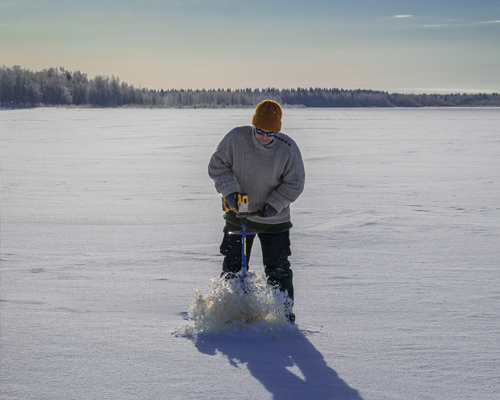 SNOWMOBILE
AND SLEIGH
TRIP ON
FROZEN SEA
3-4h
(
1-10
people
)
Join us on a spectacular adventure on the frozen sea to observe
the stunning, peaceful nature. Keep your camera ready as Auroras
can appear quickly in the sky.
WINTERY
BAIT FISHING
FOR
NORTHERN PIKE

IN II (
ISMETE
)
4h

(1-10 PERSONS)
Join us on a trip to Ii, where you will experience the Northern
winter and ice fishing safely with an experienced guide. We
will target big  pikes with ismete ice fishing technique.